2021 Merritt Awards
2021 Merritt Awards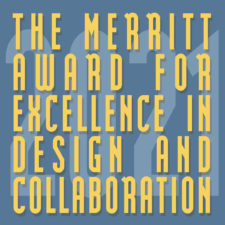 Join us for the 2021 Merritt Awards
The 2021 Merritt Awards will be a digital event held Monday evening May 17th.
5pm- 6pm engage with graduating student design/tech work. 
6pm-7:15pm Live on zoom Awards Event. 
For assistance joining the zoom tonight call our box office at  ‪(847) 579-9238.
---
The Michael Merritt Award, a national award unique in its emphasis on excellence in both design and collaboration, is presented annually to professional theatrical designers.
The Michael Merritt Awards announces that on Monday May 17, 2021 the award ceremony will be a virtual event that will highlight two designers who are powerhouse advocates of inclusion and equity in employment.
The Merritt Award for Design and Collaboration will be presented to Clint Ramos; Designer, Educator, Activist and Creative Producer. You can explore Clint's work at clintramos.com.
The Merritt Award's first Arts Advocate Award will be presented to Elsa Hiltner, Costume Designer, Pay Equity Activist and Director of Development. You can explore Elsa's work at www.elsahiltner.com (pay equity work) and www.elsahiltner.myportfolio.com(design work).
---
5:00pm- 6:00pm – Engage with the work of graduating design, tech, and management students. SIGN UP HERE TO PARTICIPATE IN THE EXHIBITION as a presenter or to give our exhibitors feedback. We'll be doing a 'speed dating' format. Each attendee will spend 15 minutes with 3 different exhibitors and their online portfolio. Student really value talking on on one with directors, Artistic Directors, Designers who work with assistants, and Production Managers. Professionals new to the Chicago area or looking to expand their network may also exhibit.
CLICK HERE for Exhibition Details including how to sign up to exhibit or to give feedback .
---
6:00pm-7:15pm – Live on zoom Awards Event. – REGISTER HERE TO ATTEND THE AWARDS. The event will feature a panel discussion and presentations of awards. The evening will be hosted by Sandra Delgado.
We'd love your suggestions for panel discussion questions. Please submit those here.