2021 Merritt Awards
2021 Merritt Awards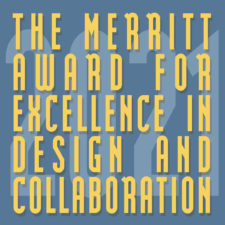 Join us for the 2021 Merritt Awards
The 2021 Merritt Awards will be a digital event held Monday evening May 17th.
5pm- 6pm engage with graduating student design/tech work.
6pm-7pm Live on zoom Awards Event.
Save the date and watch for more asynchronous ways to interact leading up to the event.
Graduating students wishing to be a part of our online portfolio showcase please fill out this form.