2015 Recipients
2015 Recipients
Robert Wierzel , Lighting Designer
Opera credits include productions Paris-Garnier (Les Indes Galantes); Tokyo (Opera Chushingura); Toronto; Montreal; and others. Robert has numerous productions with American opera companies including Chicago Lyric; Opera Theatre of Chicago; NYCO; Glimmerglass Festival; San Francisco; Houston, as well as Philip Glass' Les Enfants Térribles and Hydrogen Jukebox.
Dance work includes 30 years with choreographer Bill T. Jones and the Bill T. Jones/Arnie Zane Dance Company. His other dance collaborations include works with choreographers Elizabeth Streb; Alexei Ratmansky/A.B.T; Doug Varone; Michael Tracy/Pilobolus Dance Theatre; Alvin Ailey American Dance Theatre and many others.
Broadway credits include Lady Day At Emerson's Bar & Grill; the musical FELA! and David Copperfield's Broadway debut Dreams and Nightmares. Off- Broadway includes productions with the Roundabout Theatre Company; NYSF/Public Theatre; The Signature Theatre and Playwrights Horizons, among others.
Robert's extensive Regional Theatre work includes productions at the Goodman Theatre; Chicago Shakespeare Theater; A.C.T. San Francisco; Center Stage; Alliance Theatre Company (Atlanta); Arena Stage; Shakespeare Theatre DC; Hartford Stage, Long Wharf Theatre; The Guthrie; Mark Taper Forum; and The Old Globe among many others.
In 2010 Robert received TONY Award Nomination for his work on FELA!
Currently, Robert is adjunct faculty at NYU's Tisch School of the Arts and a guest lecturer at the Yale School of Drama.
Grant Sabin, Scenic Designer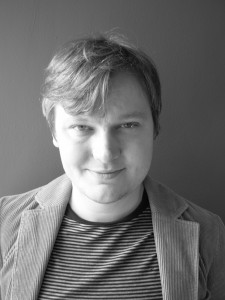 A native of rural Illinois, Grant blends his rural roots with urban art. He's a graduate of Columbia College with a BFA in theatre design where he was awarded the 2005 Michael Merritt student scholarship for collaboration in theatre design. He is known throughout Chicago for his keen eye in capturing atmospheric detail and his ability to design "impressively executed sets" on a storefront-theater budget. His designs have been seen at Northlight, Victory Garden , Steppenwolf , Next, The Royal George, Overture Center WI., Theatre Witt, Gallagher Bluedorn IA., American Blues, ATC, Christina Isabelle Dance, The Seldoms Dance and A Red Orchid.   He was nominated for a Joseph Jefferson award for his design of A Red Orchid's production of The Sea Horse and Dog & Pony's production of Mr. Marmalade. He was recently named one of the Top 50 Players in Chicago Theatre by New City Magazine. Grant is currently a part-time faculty member at Columbia College.
Alice Maguire, Props Master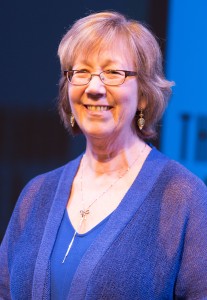 Alice is now in her 26th season as Props Supervisor at the Goodman Theatre in Chicago. She has been working in professional theatre since graduating from the State University of New York, Oswego in 1976. She interned and later became Props Master at the Paf Playhouse on Long Island propping the pre-Broadway production of Albert Inuarrato's Gemini. For many years, Alice resided happily in New York's East Village splitting her year between freelance projects in New York and New Mexico's Santa Fe Opera. Her Broadway credits include Big River and Night of the Iguana with Jane Alexander, on Off Broadway, Tintypes and Roundabout's Mrs. Warren's Profession & Tintypes. At Santa Fe projects included the American Premiers of Alban Berg's Lulu Act III, Hans Werner Henze's We Come to the River and Richard Strauss' Die Liebe der Danae.
She has also worked at the Alliance Theatre in Atlanta and the Indiana Repertory Theatre in Indianapolis.
Beginning her association with the Goodman Theatre in 1988, Alice has had the good fortune to manage properties for over 200 productions. Some of her favorites are Death of a Salesman, Long Day's Journey in Night, Iceman Cometh, Marvin's Room, Night of the Iguana, Finishing the Picture, The Visit and Three Sisters.
In her 38 years of being a Props Master, Alice has had the pleasure of collaborating and being inspired by some of the most creative designers in theatre such as Santo Loquasto, Tom Lynch, Todd Rosenthal, Walt Spangler, John Conklin, Ming Cho Lee, Michael Yeargen, Tom Lynch, David Potts & Rouben Ter-Arutunian.
Her favorite film credit is as on set props for the original Friday the 13th movie; filmed at Camp No-Be-Bo-Sco is Blairstown New Jersey.
Alice's husband and scuba diving partner is David Naunton, the Audio Supervisor at the Goodman Theatre. She has a passion for creating gardens with dwarf conifers.
Justin Snyder, Technical Director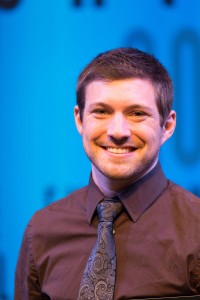 Justin Snyder has been involved in the theater industry for 9 years in Phoenix, Los Angeles and now Chicago. He works full time as the Technical Director at Victory Gardens Theater and has worked that role with other theaters including The Hypocrites, American Blues, Interrobang Theatre Project, Sideshow, Haven, Strawdog, The Factory, Livewire Productions, Polarity Ensemble, and is a company member with Oracle Productions. Building is a passion of his and theater is the medium that brings creativity, hard work and collaboration together to make something truly magical and worth working on. Thanks to everyone who makes this possible!
Academic Prizes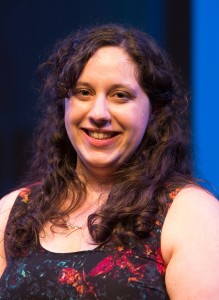 Emma Gullo (Scenic & Puppet Designer) Emma Gullo is a Chicago-based designer and painter who specializes in scenic elements for people and puppets of all scales. Storytelling has always been a big part of her life, and it is her goal to further the storytelling tradition through theatre and its immersion of audiences into the worlds of different stories, from the fantastic to the filthy. Past design credits include: Violet (scenic design), Boeing, Boeing (scenic design), Getting Out (scenic design), The Tempest (puppetry design), and The Pillowman (props and puppetry design). Emma currently works as a scenic painter in the theatre department at Columbia College Chicago, where she is studying as part of the BFA design program.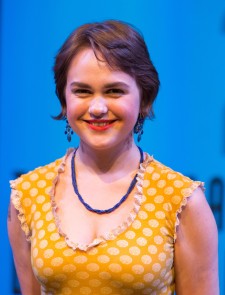 Sydney Dufka (Costume Designer) Sydney Dufka is from Portland, Oregon. She is in her junior year at The Theatre School at DePaul University, where she is working on her BFA in Costume Design. She recently designed productions of Symphony of Clouds and These Shining Lives for the The Theatre School, and this past summer worked with an independent Portland director and acting company on a production of Twelfth Night. In her sophomore year she worked as assistant designer on productions of Our Town and Number the Stars. Sydney also works as a wig and makeup assistant artist in the Makeup Shop at The Theatre School. Recently she worked as head wig and makeup artist on The Day John Henry Came To School.
Sarah Espinoza (Sound and Lighting Designer) Sarah Espinoza is a graduating senior Theatre major at Loyola University Chicago. She has previously sound designed fml: How Carson McCullers saved my life (Loyola University Chicago), The Arsonists (Strawdog), Gross Indecency (Loyola University Chicago), Deathscribe 2014 (Wildclaw), and assistant sound designed Inana (TimeLine). She was the lighting designer for From the Mississippi Delta (Loyola University Chicago), and was the associate lighting designer for Spring Awakening (Loyola University Chicago). She also did the fight choreography for the following shows at Loyola University Chicago: House of Bernarda Alba, fml: How Carson McCullers saved my life, Spring Awakening, and This is Our Youth.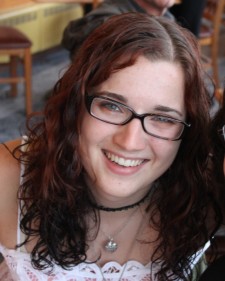 Caitlin McLeod (Costume & Scenic Designer) Caitlin McLeod is a scenographer, performance artist, puppet enthusiast, traveler, and dreamer. Her most recent work includes assisting at Lookingglass and the Lyric Opera, as well as designing various Northwestern Productions. Before relocating to Chicago to pursue her MFA in Costume and Scenic Design at Northwestern, Caitlin lived in Buffalo, New York. There, she worked and assisted at venues throughout the Buffalo region, including Shakespeare in Delaware Park, The New Phoenix Playhouse, and Road Less Traveled Productions. Caitlin holds her BFA in Theatre Design & Technology along with a BA in Studio Art from The University at Buffalo. Outside her work in traditional theatre, Caitlin's greatest desire is to invade the public sphere of "ordinary life" with unexpected art forms. She works to foster appreciation for the arts in all walks of life, and utilizes art as a catalyst to break the mundane through street art
Design Exhibition Prizes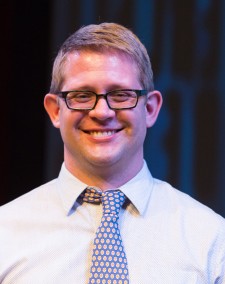 Brandon Wardell, Lighting Designer
Brandon Wardell is a Lighting and Scenic Designer based out of Chicago, IL.  He is an Ensemble Member of Adventure Stage Chicago, an Artistic Associate of Steep Theatre Company, and Assistant Professor of Lighting Design at Northern Illinois University.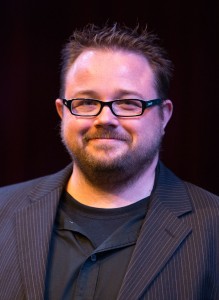 Sean Mallary, Lighting Designer
Sean grew up an Air Force brat in suburbs across the country and parts of England.  He now lives in Chicago and is heavily engaged in the performing arts community.  Sean has designed  well over 100 live productions between theatre and dance, yet has a background in corporate production that comprised the first 10 years of his career.  He is a  resident designer and a proud ensemble member of the Strawdog Theatre Company where he's been nominated twice and received a Joseph Jefferson Citation.  Some of his other credits include design work with Route 66, Wagon Wheel,  The Goodman, The Steppenwolf Garage, Next, A Red Orchid, Collaboraction, Lifeline, Citylit, Adventure Stage Chicago, European Rep, Ballet Chicago, Hip Hop Connexion, Chicago Dance Crash and Culture Shock Chicago.  Sean holds a BFA from Texas State University at San Marcos, and occasionally dabbles in personal essays or short plays as part of Strawdog's Hit Factory writing program.  He is currently perusing his MFA in lighting design at Northwestern University in Chicago.