2016 Recipients
2016 Recipients
Michael Bodeen , Sound Designer and Composer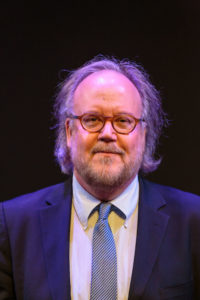 Michael Bodeen is a composer, sound designer, and guitarist. Broadway credits include music composition and sound for No Man's Land & Waiting for Godot, Breakfast at Tiffany's, The Miracle Worker; and sound for Larry David's Fish in the Dark, Of Mice and Men, This is Our Youth, Who's Afraid of Virginia Woolf, Superior Donuts, A Year with Frog and Toad, reasons to be pretty and Hollywood Arms with his collaborator, Rob Milburn.  They have created music and sound Off Broadway, at many of America's resident theatres (often with Chicago's Steppenwolf Theatre) and at several international venues. Recent regional music or sound credits include East of Eden at Steppenwolf, Another Word for Beauty at the Goodman Theatre, Aubergine at Berkeley Repertory Theatre, and Head of Passes at The Public Theatre.  Prior to their partnership in 1999, Michael created music and sound for the Goodman Theatre productions of The Baltimore Waltz, Mirror of the Invisible World, The Odyssey (which toured McCarter and Seattle Repertory Theatre), Journey to the West (which toured Boston's Huntington Theatre and Berkeley Repertory Theatre), The Notebooks of Leonardo da Vinci, which traveled to the Serious Fun! Festival at Lincoln Center, Second Stage, Berkeley Repertory and Seattle Repertory Theatre; and sound for Philip Glass' opera, Galileo Galilei which travelled to BAM and the Barbican Center in London. He also created music for Henry VIII and Measure for Measure at The New York Shakespeare Festival in Central Park, as well as music and sound for A Midsummer Nights Dream at Boston's Huntington Theatre (all above directed by Mary Zimmerman). Additional Goodman theatre productions include As You Like It, (dir. Michael Maggio) Oo-Bla-Dee, Escape from Paradise, The Ties That Bind, (Regina Taylor), and Somebody Else's House (David Cale). Other projects include The Glass Menagerie (dir. Mark Brokaw) at Steppenwolf Theatre and sound design for Nomathemba, featuring Ladysmith Black Mambazo, at the Schubert Theatre in Boston. His music and sound have also been heard in productions at Alliance Theatre, Arena Stage, Chicago Shakespeare Theatre, Guthrie Theatre, Hartford Stage, La Jolla Playhouse, Long Wharf Theatre, Mark Taper Forum, Milwaukee Repertory Theatre, Playwrights Horizons, Philadelphia Theatre Company, The Repertory Theatre of St. Louis, Trinity Repertory, Yale Repertory Theatre, and the Subaru Acting Company in Japan. Michael's compositions and performances have also been heard in several dance pieces. He is the recipient of a Drama Desk nomination, a Helen Hayes nomination, an LA Ovation nomination, a Beverly Hills/ Hollywood NAACP Theatre Awards nomination, an Acclaim award, an LA Garland award, three Bay Area Theatre Critics Circle Awards; two for original score and one for sound design, and sixteen Joseph Jefferson nominations resulting in six awards; four for original music and two for sound design. Michael graduated with a BA in History from Depaul University in 1983. He currently resides in Chicago's Rogers Park neighborhood.
Scott Davis, Scenic Designer
Scott Davis is a Chicago based scenic designer.  He has designed over 20 shows with Chicago Shakespeare Theater, including Tug of War, Ride the Cyclone, Road Show, Pericles, and Murder for Two.  Elsewhere in Chicago he has worked with Court Theater, Paramount Theater, Drury Lane Theater, Northlight Theater, Steppenwolf Theater, Victory Gardens, Mercury Theater, Windy City Playhouse, American Theater Company, Griffin Theater Company, Steep Theater Company, Profiles Theater, and Mary-Arrchie Theater Company.  Regional Credits include productions with Milwaukee Repertory Company, Asolo Rep, Children's Theater Company, Signature Theater, and Walnut Street Theater.  Internationally he designed Costumes and Scenery for Othello: The Remix, which has played at Shakespeare's Globe, Unicorn Theater (London). The Neuss (Germany), Gdansk Shakespeare Theater (Poland), The Cultch (Vancouver), DUCTAC Theater (Dubai), Bruce Mason Center (New Zealand), and Chicago Shakespeare Theater. He also designed Costumes and Scenery for Cadre, which played at the Market Theater (Johannesburg, South Africa) and Chicago Shakespeare Theater.  Mr. Davis serves as adjunct faculty at Columbia College having received his MFA from Northwestern University.
David Naunton, Audio Supervisor
David Naunton started his theater career in 1983 with a 1 year internship at the Kalamazoo Civic Players in Kalamazoo, Michigan. In 1984 he became the Technical Director for the Red Barn Theater of Saugatuck, Michigan then moved that fall to Chicago and started working as a free-lance Sound Designer and Engineer for theater companies such as Ballet Chicago, Wisdom Bridge Theatre, Steppenwolf Theatre, Northlight Theatre, Remains Theatre, Chicago Opera Theatre, Hubbard Street Dance Chicago, The Joffrey Ballet, Life Line Theatre and Milburn/Bodeen Music. He was then hired by the Hubbard Street Dance Company as its Production Assistant and Sound Engineer (after a long interview with Bob Christen) and toured nationally and internationally for 4 years. In 1986 David was hired by the Goodman Theatre as its House Audio Engineer. He is now in his 30th season at the Goodman, where, as the House Audio Supervisor, he runs the Sound Department for 12 to 14 productions every season. In 2001 DePaul University Theatre School hired Mr. Naunton as an Adjunct Professor for its new Sound Program, and he continues to teach there today.
David's wife and scuba diving partner is Alice Maguire, the Properties Supervisor at the Goodman Theatre. David enjoys double entendres, grilling on a Green Egg and model railroads.
Jeff Glass, Master Electrician and Production Manager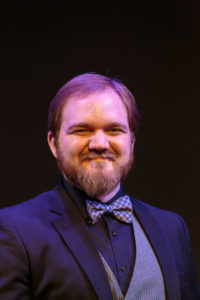 Jeff Glass is an electrician, lighting designer, and production manager originally from Sunnyvale, California. His work has been seen onstage with Lookingglass Theatre, The New Colony, The Inconvenience, Emerald City Theatre, About Face, Buzz22, Redmoon, The Poor Theatre, and more. Recently he has served as the Master Electrician at Lookingglass, and for Northwestern University's annual Waa-Mu show. Jeff takes delight in lighting technology of all sizes, from ferris wheels to fireflies, and the possibilities for collaboration that the future holds.
Academic Prizes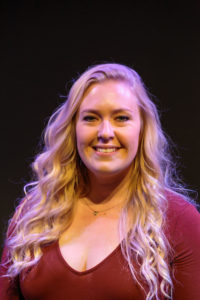 Tracee Bear(Costume Designer) is a freelance costume designer based in Chicago, Illinois. As a designer, she has combined her love for history, fashion, and theatre in hopes to create an experience that will, not only entertain, but will also take the audience on a beautiful journey. A California native, Tracee has lived in Chicago for the past three years and holds a Bachelor of Arts degree in Costume Design from Columbia College Chicago. While attending Columbia, she has had the pleasure of designing Women on the Verge of a Nervous Breakdown, Peter Pan, and the 2016 Senior Playwriting Showcase.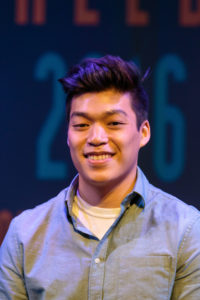 Connor Wang (Sound Designer) is from West Des Moines, Iowa.‬ He is currently completing his third year at The Theatre School at DePaul University. Connor got his start in theatre as a pantomime, so it's curious that he is now pursuing a discipline that focuses on creativity through sound. His recent design credits include Prospero's Storm, Sparkleshark, and We're Going To Be Fine for The Theatre School, as well as a production of Fooling Buddha at First Folio Theatre in Oak Brook. Connor is looking forward to an upcoming internship with Nevin Steinberg for the Chicago premiere of HAMILTON. Connor is honored to be receiving this prize and would like to thank The Theatre School faculty and staff for their guidance and support.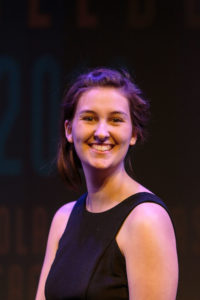 Meghan Erxleben (Lighting Design) is a graduate from Loyola University Chicago.  Her design credits include the lighting design of Galileo and Gross Indecency: The Three Trials of Oscar Wilde at Loyola University Chicago.  She has further experience as the Assistant Lighting Designer on The Cheats at Steep Theater Company as well as for United Flight 232 with The House Theatre Company. This past summer she was also the Lighting Design Intern on Brilliant Adventures at Steep. She has also dabbled in props design with Frankenstein at Loyola and 15 Breaths with the About Face Youth Ensemble. In addition to design she has experience as a Scenic Artist. She was the Scenic Charge on Loyola's production of Lend Me a Tenor and the Loyola Dance Concert (2015).  She is currently a Scenic Painter at Crosstown Scenic. At Crosstown she has worked on The King and I and La Cage au Folles at the Marriot Lincolnshire and Ride the Cyclone at Chicago Shakespeare Theatre. She would like to thank her family, friends and the LUC DFPA for being so incredibly supportive.
Arnel Sancianco (Set Designer) is a third year MFA Scenic Design candidate from Northwestern University. He has recently designed the sets for THE GRAPES OF WRATH, Green Day's AMERICAN IDIOT and Chuck Mee's BIG LOVE at Northwestern University. He is currently working on XANADU at American Theatre Co. Chicago, as well as ROCK OF AGES and TITANIC at Timberlake Playhouse. Past design credits include 15 BREATHS (About Face), END GAME (Right Brain Project), MELANCHOLY PLAY (Northwestern), EURYDICE (UC Irvine), and PICASSO AT THE LAPIN AGILE (UC Irvine).
Design Exhibition Prizes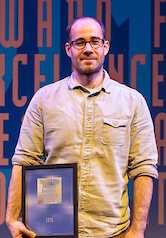 Jeffrey Levin, Sound Designer
Jeffrey Levin is a composer, sound designer, and musician based in Chicago IL. Jeffrey has contributed original music and sound designs for over seventy productions for various theaters in and outside of Chicago. He has collaborated with Steppenwolf, Strawdog, Oracle, Cor Theatre, Windy City Playhouse, Stage Left, TUTA, Step Up Productions, Dead Writers Theatre, Chicago Commercial Collective, Chicago Fringe Opera, Collaboraction, ChiArts High School, Northwestern, Hope College, and Columbia College. Awards and Recognitions include a Joseph Jefferson Award for Sound Design of The Harry Ape at Oracle Theatre along with three other Jeff Award nominations for Sound Design and Original Music, the Edes Foundation Award for Emerging Artist, Kleinman Composition Competition for his original work for Clarinet and Electronics, and a TimeOut Theatre Award nomination. Jeffrey received his Masters of Music in Composition at DePaul University and Bachelors of Music in Composition at Columbia College Chicago. www.jeffreylevinmusic.com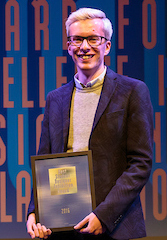 Alexander Ridgers, Lighting Designer
Alexander Ridgers is a lighting designer originally hailing from Edinburgh, Scotland.
Alexander trained at the Royal Conservatoire of Scotland, Glasgow on the B.A Technical & Production Arts course and then at Northwestern University on the MFA theatre design program.
​
Selected US design credits include work at Writers Theatre; Indiana Repertory Theatre; Milwaukee Chamber Theatre; Chicago Children's Theatre; American Blues Theatre; Kokandy Productions; Griffin Theatre Company; Wagon Wheel Theatre; Fort Worth Opera Festival. UK credits include: Royal Opera House 2 (assistant); British Youth Opera; Associate Designer for Sell A Door Theatre Company (2012-2013); Tron Theatre; Tramway Theatre Arts; Edinburgh Festival Fringe (numerous).
Alexander is winner of the 2012 Francis Reid Award from the Association of Lighting Designers, and won the Best Student Designer Exhibition Award 2016 at the Michael Merritt Awards.. Alexander was nominated for the 2017 Outstanding Lighting Design Non-Equity Jeff Award and the same category in the Chicago Theatre Awards for his work on 'Winterset' with Griffin Theatre Company (2016).
Alexander is an adjunct lecturer at the University of Illinois at Chicago teaching Lighting Design to undergraduate students in the School of Theatre & Music and also a studio assistant for Marcus Doshi Design LLC (credits including: Public Theatre NYC, Steppenwolf Theatre, Theatre for a New Audience, Brooklyn, Houston Grand Opera)