Collaborations of Merritt
Collaborations of Merritt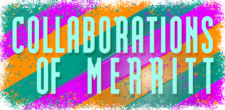 Summer 2021 Festival Structure
Collaborations of Merritt is a designer and director collaboration festival which celebrates the work of creative teams in the performing arts. All work in these dream collaborations are to feature plays, musicals and operas by BIPOC, Women & LBGTQIA Writers and Composers. The teams will work through the process of design and directing a dream theater or opera project of their choosing leading up to a first rehearsal. Projects will culminate in a video "first rehearsal" presentation that includes research, renderings, models, and directorial concepts, that will be shared on the festival website. Artists and artistic leaders will be invited to engage with the work, including a panel of artistic directors from throughout the Midwest, and each team will get personal feedback from two artistic directors via zoom.
Sign up to be involved by Monday June 7th
singles will matched with new collaborators into teams by June 7th
Teams will submit the play/opera/musical they are working on by June 14th
Design process will commence June 14th
June 28 – director office hours – project directors connect with each other
July 12 – outside eye feedback session for feedback on prelims
July 26 – designer studio drop in office hours – open studio time in disciplines for designers to work alongside each other, problem solve, share advanced rendering techniques, mentors not on teams will come and offer advice
Projects conclude August 11th – complete project and upload to an exhibition website by midnight.
Evening. of Monday, August 16th – gallery opening event.
We will also offer a matchmaking service, for those solo collaborators out there–connecting directors and designers together into teams. During the design process we will offer mentoring and peer feedback sessions for directors and designers.
The goals of Collaborations of Merritt are to uplift artist driven projects in this time in which we are all missing our collaborative creation outlet, to provide an opportunity for directors and designers to select their dream material, and to provide a much-needed deadline to hold us all accountable.
All participants should have an interest in future collaboration with midwest theatre artists.
We hope a wide range of professional directors and designers will partake in this celebration of dreaming theatre together and particularly to lift up the plays, operas and musicals of BIPOC, Women & LBGTQIA Writers and Composers.
---