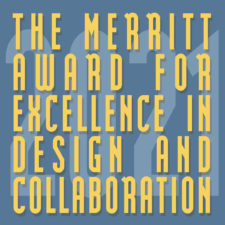 Join us for the 2021 Merritt Awards
The 2021 Merritt Awards will be a digital event held Monday evening May 17th.
5pm- 6pm engage with graduating student design/tech work.
6pm-7pm Live on zoom Awards Event.
Save the date and watch for more asynchronous ways to interact leading up to the event.
Graduating students wishing to be a part of our online portfolio showcase please fill out this form.
---
The Merritt Summit Series 2021
The first session of our Summit Series, TEACH was a great step in connecting and learning. Thank you all who joined the conversations!
And now we are excited to present our next session – PIVOT.
The event is Monday March 29th, from 6pm to 8pm CDT.
Please register here:
https://luc.zoom.us/meeting/register/tZMuduitqDIjHtGTTTblitzo1Q0sSdvxBcqu
Many people in our industry have made the choice to PIVOT in their professional lives and careers. This has meant broadening to other forms of arts and entertainment, creating new opportunities and business models, or shifting to completely different industries. We are inviting everyone to share their journeys, support each other and connect as we navigate the challenging reality of shifting to exciting new prospects.
As before, this session will take form in three concurrent rooms, where guests from various backgrounds and professions will speak to their PIVOT experience and make themselves available for questions and networking. Attendees are encouraged to visit all three conversations and are welcome to strike up their own chats at our virtual home room.
The Rooms will be:
1) Designers, Technicians, and Entrepreneurship
2) Applying Soft Skills and Experiences
3) Additional Education and Shifting Careers
with guests: Mara Blumenfeld, Christine Pascual, Sotirios Livatitis, Helen Young, Megumi Katayama, Anish Jethmalani, G.W. Rodriguez, Chelsea Paice, CoCo Ree Lemery, and more to be announced.
The Summit Series is sponsored by: